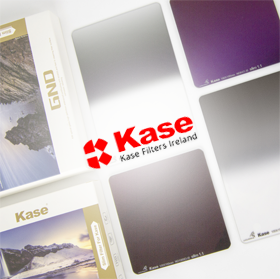 ABOUT KASE FILTERS
Camera filters have evolved massively since the introduction of resin filters for film cameras. Today's high-resolution digital cameras are far more demanding and the use of photographic dyes have largely been replaced by Nano coating technology.
Why should this matter?
We have some of the very best sensors available in today's digital cameras and we have a range of lenses designed to resolve the increased detail. Indeed, the tendency to remove low pass / anti-aliasing filters on high-end cameras helps to deliver the finest image detail captured, placing an increase demand on lenses and filters to perform to the highest standards.
Kase Wolverine glass filters are made from clear Schott glass – B270 optical glass. A vacuum coating technology is used for both sides of the glass filter to produce a hard wearing , scratch and shock resistant filter which yields a true neutral colour with no cast.
Kase are leaders in this coating technology and their latest slim-line filters (1.1mm thick) deliver a near 50% weight reduction while also delivering the highest optical performance from any filter on the market today.
Kase Wolverine Filters – produced for the discerning photographer who demands the best.